Bayahibe Things To Do
Introduction
Bayahibe offers a lot of things to do for everybody, besides having a relaxed holiday at the beach. In the following articles we are going to tell you more about the beautiful islands Saona and Catalina, their history, flora and fauna, their particularities, their inhabitants and of course their stunning lonely beaches. We also introduce you to several tour options which you can book to these remarkable islands and show you on the basis of their different schedules what you can expect and what you get to see on these fullday tours. Besides the activities on waters you can dip into the wet element and explore the world under the surface as a scuba diver. The local dive shops are glad to take you to various dive sites, which are described in our following article. You can even discover three different shipwrecks in the great coral reefs. The dive shops also help you to become a certified diver with a course individual for your needs. Not only the salty waters are great to spend time in and around, also the fresh water river Chavon is absolutely worth a visit. Something totally different and exciting is an excursion into the jungle, a dry tropical surrounding with a big birdlife and many different kinds of colourful butterflies. Don`t underestimate this country, it is so versatile and offers its visitors a rich nature and geological formations, such as the caves in the National Park of the East in Bayahibe. You can swim in the caves` clear cold water right next to stalactites and stalacmites or dive into another cave. Get in touch with the history of the Dominican Republic and visit a traditional Taino village.
Let's go! Find the adventurer in you and make amazing experiences from which your your friends will envy you for.
Saona Island
Saona Island is the place to be in the Dominican Republic!
This tropical island, in Spanish Isla Saona, is because of its remarkable sea life and postcard like beaches with calm and turquoise waters one of the most popular attractions.
Once it was discovered by Christopher Columbus in May 1494, who named it Saona. There are still about 300 indigenous people living in the small village Mano Juan, where are still no cars driving and only solar electricity exists. Nowadays it is a government protected nature reserve and part of the East National Park (Spanish: Parque Nacional del Este).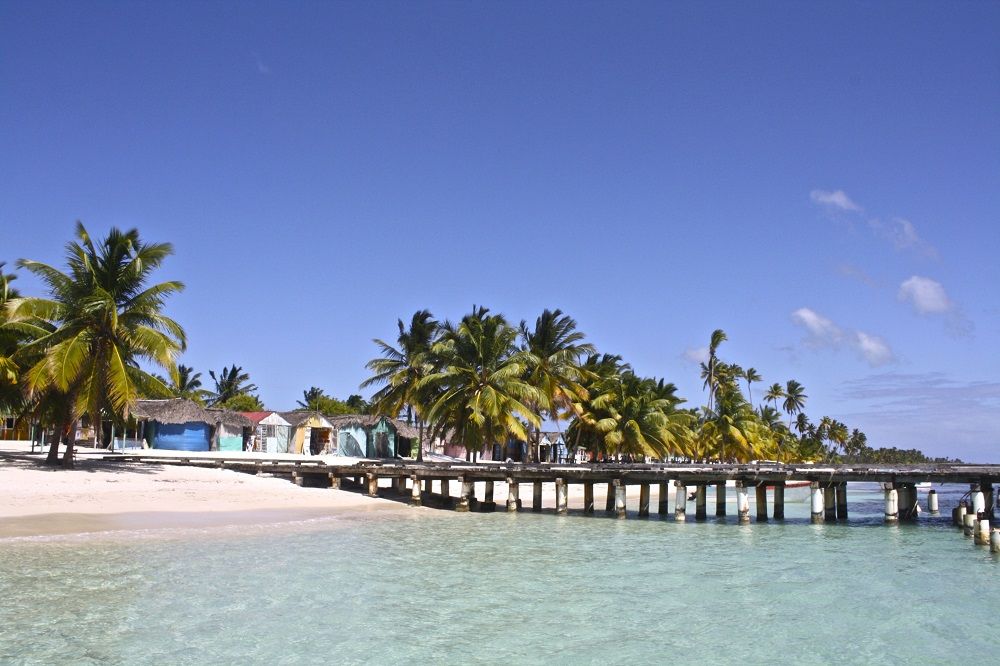 Daily leaving motorboats and catamarans from the fishing village Bayahibe on the south-east tip of the Dominican Republic to the island, located a short distance from the mainland. With a length of 15.5 miles/25 km and width of 3 miles/5 km it is the biggest island of the country. It is surrounded by crystal clear warm waters in which are still many tropical marine fish domiciled. There are large areas where natural sandbars offshore bring the depth to just a few feet and where the fields of starfish, indigenous to the region, can be inspected. Thus, these waters are heaven for snorkelers!
The island itself is lined with marvelous white sandy beaches, where palm trees spend enough shade whilst relaxing on the silky sand. As it is a protected nature reserve, the island is still rich in wildlife and many species of birds can be spotted.
The natural beauty of the island and its beaches is not only discovered every day by tourists from all over the world, also film-makers and advertisers love the island for the stereotypical "desert island" setting and famous adverts, such as the Bounty chocolate bar advert, were produced here.
In a nutshell, a trip to Saona Island will remain as an unforgettable memory!
Saona Island Excursions
You can choose amongst several tours to Saona Island, most of them are very similar in their procedure. Some companies have websites where you can book online, or you ask at your hotel reception to do the booking for you. Many, especially smaller tour operator, just have their offices at Bayahibe beach. You will also meet agents walking around on the beach or in town. What all of the bigger operators have in common is that they pick you up at your hotel, whether it is in Punta Cana, La Romana or the outskirts of Bayahibe. The "usual" tour to Saona Island looks like this: Pick up at around 7 am, then boarding a catamaran or a smaller motorboat at Bayahibe Beach and a following up to 1.5 hours boat ride to the island. There you have enough time to enjoy the beautiful beach or you can go snorkeling, some tour operators include or rent snorkel gear. At lunch time they will serve you a typical dominican buffet, which is included in the price. At most tours beverages, like water, soft drinks and alcoholic drinks, are also included. After lunch it goes back to Bayahibe, but with an extended stop at the "Piscina Natural" a natural pool at a sandbank with huge starfish. These tours offer prices between $40 and $70, the prices depend on the operators amenities.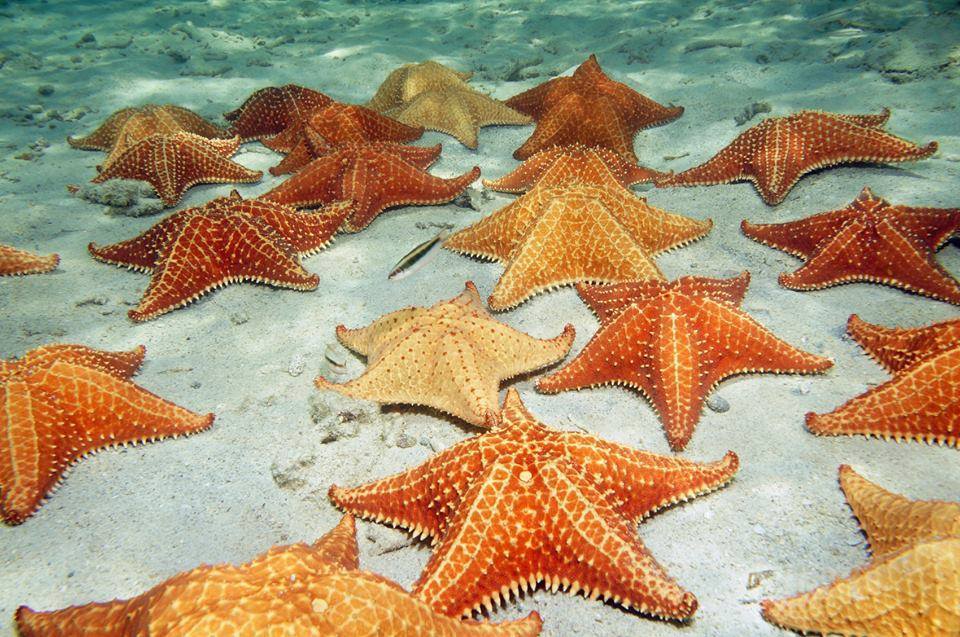 If you want to make the most out of your Saona Island trip we recommend the highest rated tour on tripadvisor. The eco-tour operator SeavisTours, located on Bayahibe beach, changed their itinerary in order to avoid the mass tourism with it`s equally timed schedules and is so able to include more events during the day. What is different? You will have a quick speedboat ride to Saona Island, with the first stop at the Piscina Natural, where you can enjoy the scenery before other boats arrive. Their speedboats are not only faster, it also allows them to go closer to reefs or mangroves where you might spot some wildlife. On Saona island you will visit 3 different beaches, the on the Island located village Mano Juan and a sea turtle project, where you might have the chance to hold a baby turtle. Of course they also include a traditional dominican barbecue, drinks and snorkel gear. Another advantage is that their guides are international and speak various language so that you actually will understand what they tell you about culture and nature. $95 which are more than worth it. Don`t hesitate and book this amazing tour! Check out the Saona Crusoe VIP.
Diving
Scuba Divers from all over the world have already discovered the beautiness of the Caribbean Sea and the Dominican Republic`s south coast became one of their favorite spots. Especially Bayahibe, which is the gateway to many incredible dive sites and excursions, is highly ranked on the list of the most popular places for diving and snorkelling in the country.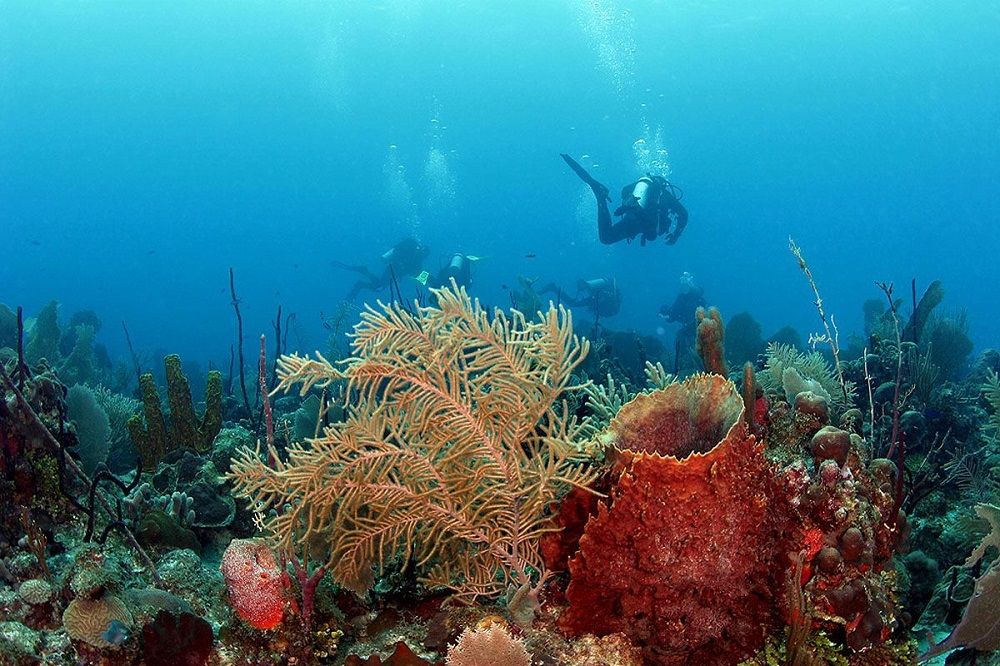 The region has so much to offer, from white sandy beaches to rocky coasts, from subtropical to mangrove forests and of course marvelous coral reefs. As a big part of this area belongs to the National park of the East (Parque Nacional del Este), the coral reefs, with its soft and hard corals are still intact and it awaits you a rich sea life. From a boat or during your dive you can see countless schools of colourful fish and you might get the chance to spot moray eels watching from their underwater caves, sting rays and sometimes even manta rays elegantly gliding through the waters and even whales, manatees, dolphins and sharks can be seen.
Not only open water dives in the ocean but also cavern dives are possible in Bayahibe. In the fresh and clear water at the Cave of Chicho in the National park you can dive through stalactites and stalagmites. The local dive centres offer various dive excursions and bring you to the most remarkable places with the best fit for your level. There are even half or full day trips for the whole family, where time on unique beaches, snorkelling and diving in crystal clear waters is combined.
Whatever you will see under water, it will be enough to keep you amazed for the whole dive. So, bring a waterproof camera to take pictures you won`t be able to make anywhere else! Whatever diving experience you have, there is a dive site and dive course for everybody, about which you can read more in the following articles.
Dive Sites
The Caribbean Sea offers great diving spots, as the waters are calm and clear the visibility is amazing. Most of the best dive sites in the Dominican Republic are around Bayahibe and are just a short boat ride from town.
Some dive sites which are especially recommended for beginners are the Dreams Shallow, the Aquarium (Peñon) and El Faro. As the name says, is Dreams Shallow a very shallow site, just a bit offshore with a maximum depth of 16 feet/5 meters. You will find many soft and hard corals and a rich marine life. When you dive at the spot called Aquarium (Peñon) you will understand why it has this name. Here, in up to 12 meters depth, you can find many, many big schools of colourful fish, might spot manta rays and won`t forget this incredible experience easily! Another spot for beginners and with its 50 feet/15 meters just a bit deeper than the Aquarium is El Faro. Discover the natural surrounding of stingrays and - especially here at this site – Barracudas.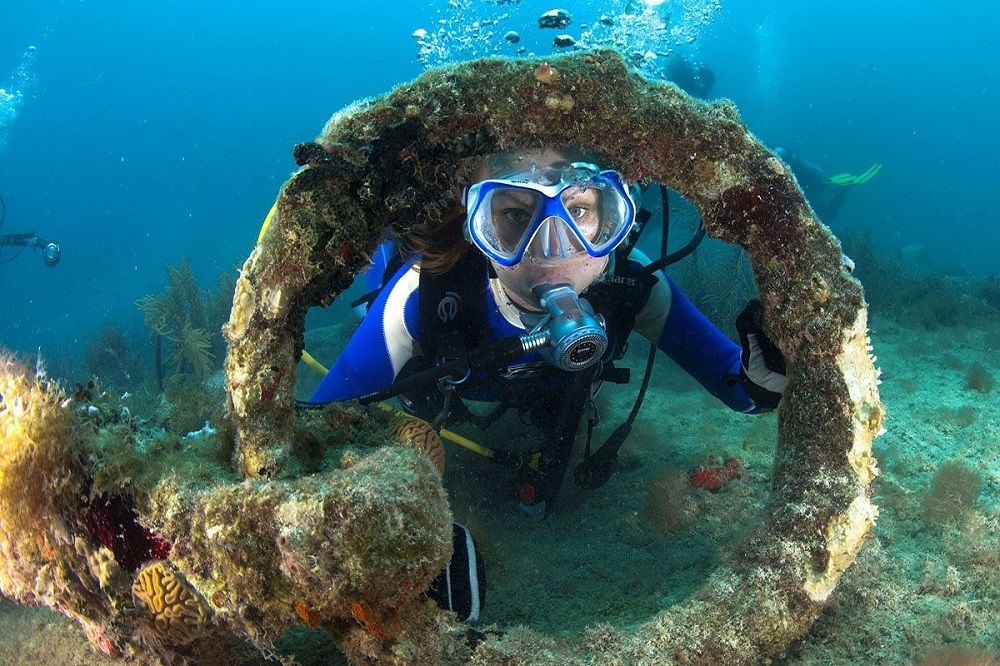 Are you an advanced diver? You will love these sites:
It is said that Parque Nacional del Este is one of the worldbest dive sites. Here you can choose amongst different spots all within a few moments boat rides and all with a huge variety of sea-life. Their depth varies from 30 to 100 feet/9 to 30 meters.
The St. George wreck dive is another amazing experience for advanced divers! You can swim around and through the wreck, covered in corals and filled with fish in a depth of 60 to 130 feet/18 to 40 meters.
There are even more incredible dive sites for all kind of levels around, such as the Viva Shallow, the Gura, the Guaraguao, the Magallanes, the Coca Reef at the Coca Wreck, Ojo de Maria Ojos de Maria II, the Dominicus or Bayahibe Reef... you can even see sharks at the Shark point.
For more information and which is the best choice for you, ask at the local dive centres in Bayahibe.
Dive Courses
Diving in the Dominican Republic can be an exciting activity for the whole family. With dive courses and sites for all kind of level as well as for kids and adults, this area and its local dive companies offer you a huge variety in this field.
Most of the courses start with programs for beginners such as trial lessons or the PADI Scuba Diver and keep on training with the entry-level course Open Water Diver. If you have no diving experience at all and you are not sure if you could like it or not, some dive centres offer you a trial lesson for less than $100.
When you decide that you not only want to look at the ocean from your beach chair, then go and visit it! You have the possibility to start straight away with the PADI Open Water course, which takes 3 days and gives you an overview of dive theory, knowledge of the used equipment and full training of dive skills.
If you don`t have enough time during your stay, you can also absolve an only 2-days PADI Scuba Diver course, where you learn the basics about theory, equipment and dive skills. Some companies offer also a PADI Scuba Diver Referral course, where you study the theory by yourself at home and need only 2 days of practice on location.
As an advanced diver you have several advanced training course options. An only 1-day course is for example the Adventure Diver, which focuses on gaining more diving skills and confidence to get more out of diving in new surroundings.
With only 5 dives more you can become a certified PADI Advanced open water diver and can go down up to 100 feet/30 meters. There are also special courses available, such as the Rescue diver and Emergency First Response (EFR) course or you can even become a Divemaster, Assistant Instructor or EFR Instructor.
For more information about schedules and prices, ask the local dive companies.
Jungle Excursions
Are you ready for having an unforgettable experience on a totally different excursion? Read more about the possible jungle tours around Bayahibe…
In the huge National Park Del Este, with its entrance right at the gateway to Bayahibe, you can discover the rainforest, cactus forest and breathtaking caves by yourself or if you want to learn more about the wildlife with a local guide. The walk is on an easy and well maintained 1.2 miles/1.9 km long trail on millions of years old fossilized corals with its spectacular ending in the cave ´Chicho` full of stalagmites and stalagtites. Signs show you the way and give you information about flora and fauna. This area was once the home of a few hundreds Taino indians, why they left their homes and where they live now will you learn on this trail.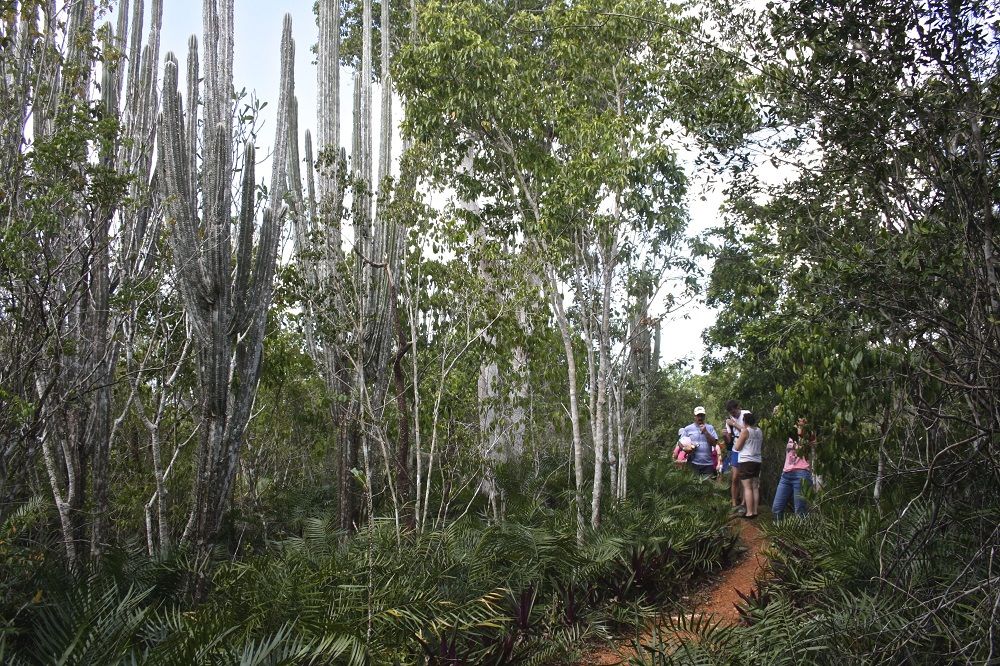 There are tour companies, which combine a visit in the national park with other spots, such as the Chavon River Valley, to a full day excursion. These excursions start with the National park and will be followed by floating through the jungle on the nearby River Chavon. Capture views of the stunning gorge and the deep tropical jungle flanking the river. For the ultimate jungle experience they bring you to a jungle farm, where you can learn more about the nature and culture. There are several interesting trails, for example a fruit trail, and a hanging bridge to discover. You also have the possibility to go canoeing or to relax in a jacuzzi amongst green trees with an incredible view on the river Chavon.
You might also get the chance to visit the new settlement Benerito of the Taino indians, who lived once in the National park Del Este. Take the chance to explore the colorful variety of the Dominican Republic, next to the beautiful beaches which you already know.
Chavon River
You have already seen some beautiful beaches in the Dominican Republic and need something new? Then we highly recommend the tours on and around the River Chavon in the Hollywood famous Chavon Valley. Why? Because floating on a calm river, watching fish jumping out of the water and birds sitting in the tropical woods is just amazing!
There are several tour options available, various tour operators offer half or full day trips and include different stops and amenities. Some tours start by boat in Bayahibe or La Romana, then you will pass by and sometimes stop at the Casa de Campo Resort marina to see some luxury yachts. Other excursions bring you to the unique village Altos de Chavon by bus and board there a riverboat.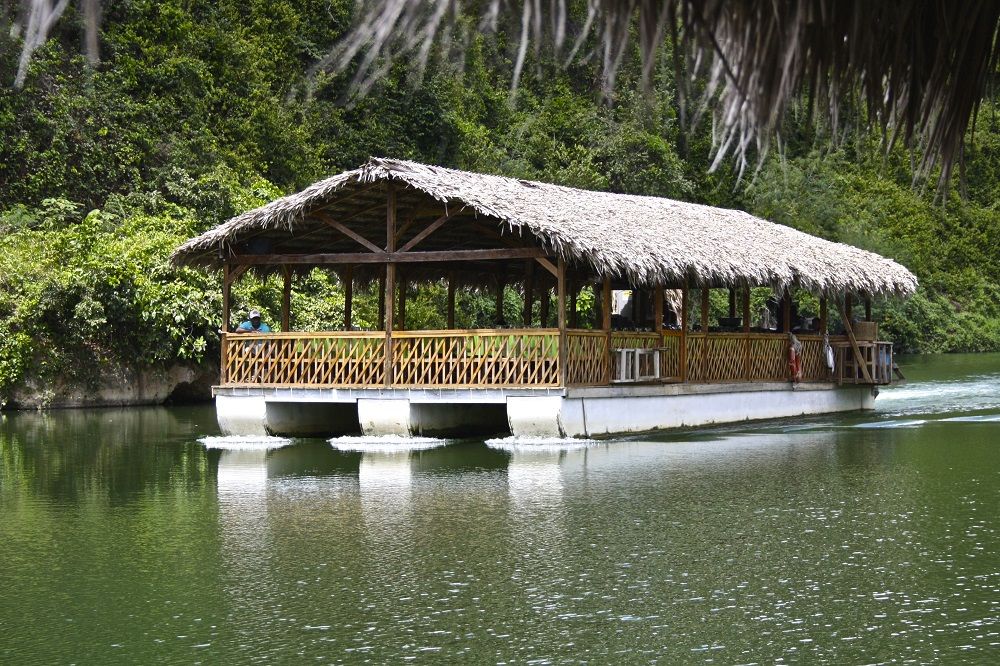 In general the tour includes an unforgettable boat trip up the river on a special raft whilst the tour guides tell you about the history and geography of this region. With the half day tour you will just float on the river whilst enjoying the scenery, drinking cocktails and listening to traditional music. On full day versions you stop at a jungle farm where you can learn about the wildlife, the wonders of nature and the culture of the indigenous Taino indians. You might have time for short hikes and for exploring the river in a canoe before floating back.
One tour operator in Bayahibe, called SeavisTours, offers even a fully packed, but still relaxed and enjoyable tour with these itineraries: river cruise – Yuca Yena with wildlife education – jungle trails – lunch - jungle farm – optional canoe adventure or jacuzzi relaxation – river cruise. There is nothing to add!
The River Chavon is quite exactly in the middle of Bayahibe and La Romana located and therefore a perfect choice for visitors of Bayahibe/Dominicus as well as for visitors of La Romana and cruise ship passengers.
Catalina Island
The island Catalina is a smaller island in the Bayahibe/ La Romana region in the southeast of the Dominican Republic and is part of the national park "Parque Nacional del Este". It was named from no one less than Christopher Columbus itself, who visited the island back in 1494. You can reach Catalina islands, which lies around 1.5 miles from shore, easily with a boat or on a guided tour. It is a remote and uninhabited island with the land mass of 6 square miles and contains a protected environment with mostly untouched forests. It is classified as a national monument and shows only little development. The island was formed millions of years ago by coral stones and is still surrounded by one of the most diverse and beautiful ecosystems in the Caribbean Sea that makes it a popular spot for snorkelling, diving and fishing. In this area, deep in the water, are several known caves and reefs located as well as famous shipwrecks which you can explore on your trip. One of the wrecks is from the 17th-century pirate Captain William Kidd and it lies less than 20 feet below you on ground so that you can spot it from the surface. There are several private tour operators which are glad to take you out to this amazing little treasure, away from the masses which are on their way to Saona Island every day. A speciality is also, that every tour operator has its own private beach for their guests so you can be there undisturbed and feel like Robinson Crusoe on his lonely paradisiac island.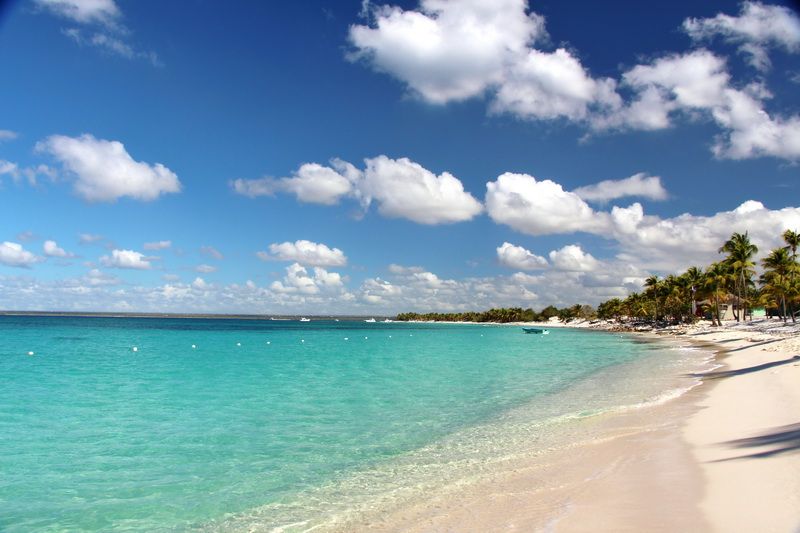 Catalina Island Excursions
Catalina Island, a nice piece of nature, still a bit remote and therefore the perfect paradise. When you are in the Dominican Republic you should jump on the chance to visit this pearl with a locally organised tour.
In general you can expect to snorkel in the crystal clear turquoise waters right in front of the island. There you find one of the most beautiful underwater ecosystem of the Dominican Republic and you will be able to relax on the soft white sandy beaches or have a stroll along on them and inhale the fresh salty air. You can simply enjoy the terrific paradisiac scenery.
The tour to Catalina Island is a full day tour, that means you will get picked up at your hotel in the morning, meet the guides at the marina in La Romana and go on board of a sailing catamaran or a speedboat. After a short ride on the water you can dip into the wet element and take advantage of the superb visibly conditions and explore the rich marine life of the Caribbean Sea by snorkelling or diving. You don't have to bring your own snorkelling equipment, the tour operator provides everything.
After the snorkelling, you will head to one of the marvelous beaches on the island where you will spent the rest of the day. On the beach you are going to feast on a rich choice of typical dominican dishes, salads and fruits for lunch. The whole rest of the afternoon is yours to explore the island at leisure before you go aboard again and head back La Romana.
A shuttle will await you there to bring you back to your hotel. Some Excursion operators include all beverages, alcoholic and non alcoholic, in their tour, some even have an entertainment team on board. The tours are made for everybody, so pack your sunscreen and towel and get on this fantastic trip to Catalina Island.