Bayahibe Restaurants
Introduction
Bayahibe has a wide selection of restaurants in a narrow territory, therefore you will never get bored by eating every day the same, no matter how long you stay here.
Maybe the mediterranean sunshine and climate quickens your appetite for fresh fruits. Or, because of smelling the salty sea in the air, you might want to eat delicious seafood. Or are you more into relaxing and watching the sunset at the beach with an ice cold cocktail in your hand? All of these are easy to find.
You also have a multiple choice of international cuisine. You will find local dominican restaurants at every corner, they are called Colmados and you will get full plates, mostly chicken or fish, for little money. Especially in the main road of Bayahibe and in the beach area you can find restaurants of various nationalities, for example French, Italian or Canadian.
It feels like that the amount of restaurants in Bayahibe is almost numberless, therefore we concentrate in the following articles just on a few which offer high-quality food, have a special atmosphere and which are highly recommended by locals and tourists.
Don`t wonder if you are getting hungry whilst reading the following articles, Bayahibe has many great restaurants with mouth-watering-menus to offer.
Cafecito Lonza
You are looking for a place where you can dine with Caribbean flair? Cafecito Lonza could be a good choice... it is an intimate place with a fantastic view, as it is located at the port facing the public beach of Bayahibe. The outdoor seatings look at all the boats in the harbor right next to it. The gorgeous setting and the white stylish interior create a very special atmosphere, perfect for your holiday feeling.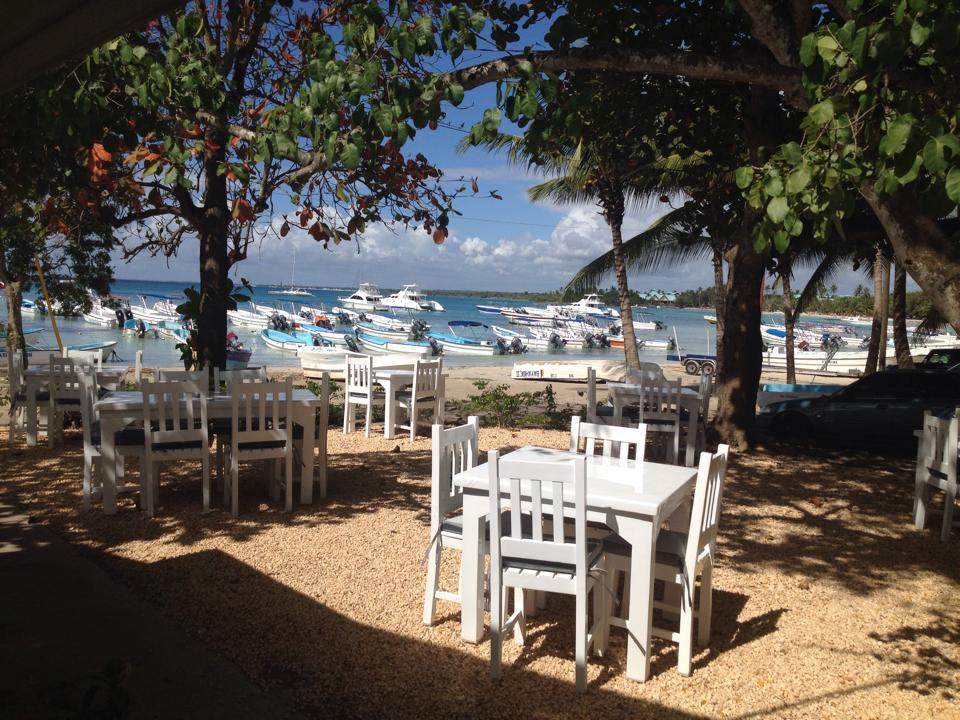 Added to the charm is the presence of the french owner and chef, who knows how to give Dominican specialities a French twist. Cafecito Lonza offers fabulous menu selections and all of them are expertly prepared in the real Caribbean way.
You could start your dinner for example with a seafood cocktail of tuna, avocados and shrimps. As main dishes they serve perfectly cooked fresh fish with creamy sauces, whereby the fresh fish filled with seafood is supposed to be a must. If you are not into seafood you could take the Ratatouille, which is described as heaven on earth, or the risotto with anis, coconut curry, fajitas,...
Enjoy the desserts, which show most of the owner`s Parisian roots. Try the ice cream with chocolate sauce, it sounds simple, but is more than delicious. Cafecito Lonza offers also many homemade drinks with or without alcohol. Try their natural juices with fresh orange, papaya, passion fruit and so on. For the pure Caribbean feeling you could choose a homemade Pina Colada, with real fruit! And don't forget to taste their incredible good Mojito.
If you are staying in the area, a visit to this restaurant is well worth it. Creole cuisine with Parisian sophistication for reasonable prices and nice service.
Find Cafecito Lonza on Facebook
Phone: +1 (849) 621-1040
Direction: Playa Bayahibe, Bayahibe, La Romana, Dominican Republic, 23000
Saona Cafe
Saona Cafe is located on the main street in the middle of Bayahibe, just in front of the beach with an awesome view and ambience.
It is a great place to enjoy international meals, drinks and music, to meet people from all over the world and share good cocktails and cold beers. There is reason why Saona Cafe won the tripadvisor certificate of excellence in 2015...
Owned by French Canadians (from Quebec), Sebastien and his wife are superb hosts and are more than happy to share their local knowledge to help you get the most out of your holiday.
Their magnificent food will also sweeten your stay in Bayahibe. After a quick glance at their very inviting looking menu you will realise how hard it is to choose amongst all the offers. They have a large selection of appetizers and finger food such as sausage sliders, zucchini and goat cheese as well as nachos, cheese and amazing homemade chips.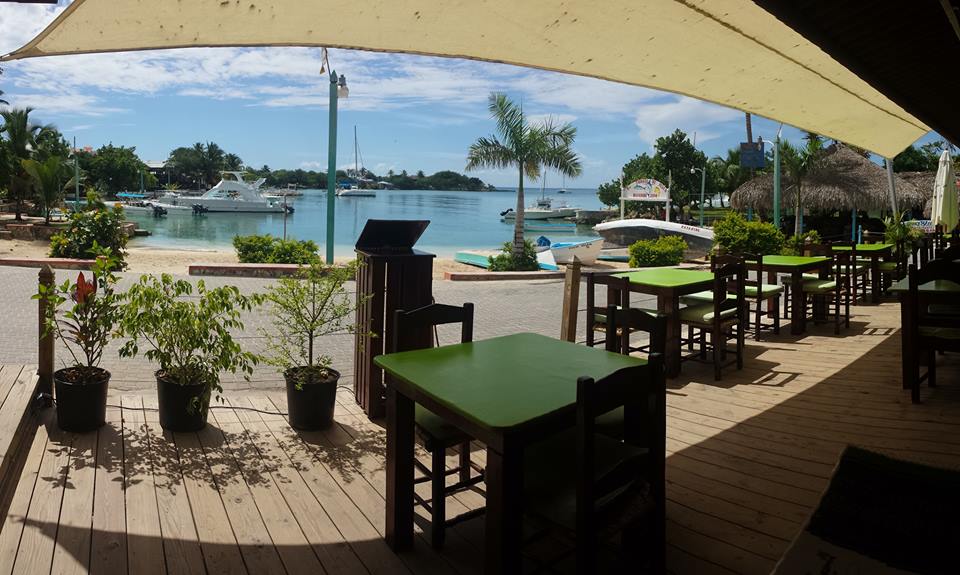 Highly recommended main dishes are amongst others the lionfish with citrus and ginger, the burger or the filet mignon in mushrooms sauce. A delicious way to finish your dinner is ordering the banana flambé, it is just phenomenal.
Saona Cafe offers also a large selection of absolutely fabulous drinks, all made from scratch by using real ingredients. However, the prices are affordable, especially regarding the high level of quality.
You can easily spend hours in the restaurant, enjoying good food and drinks and watching the local passersby as well as tourists. You can also log in to their free Wi-fi. Saona Cafe is a wonderful spot to wrap your day up surrounded by cool vibes in the middle of the mixture of tourists and natives.
So, if you are feeling social and outdoorsy this is the place to be.
Find Saona Cafe on Facebook or go directly to their website.
Phone: +1 (809) 833-0541
Email: info@saonacafe.com
Direction: 1 Calle La Bahia, Bayahibe, Dominican Republic, 23000
Chiky Blue
The Chiki Blue is a delightful little place within walking distance of most hotels in Bayahibe. It offers you a great view to the sea right along the water edge. Not only that the setting is terrific, also the interior with its surfboard tables and the bar full of international beer bottles is very special.
This restaurant provides a good selection of food and drinks and satisfies all tastes. The wood oven pizza with a perfect thin crust and the right amount of sauce and fresh toppings is definitely a highlight and also available for take away. If you like sushi, this is the place to go in Bayahibe, Chiki Blue`s tasty sushi is just delicious. Also their seafood dishes are all highly recommended, you can almost still taste the sea, but how could it be different, it comes straight away from the ocean on your plate.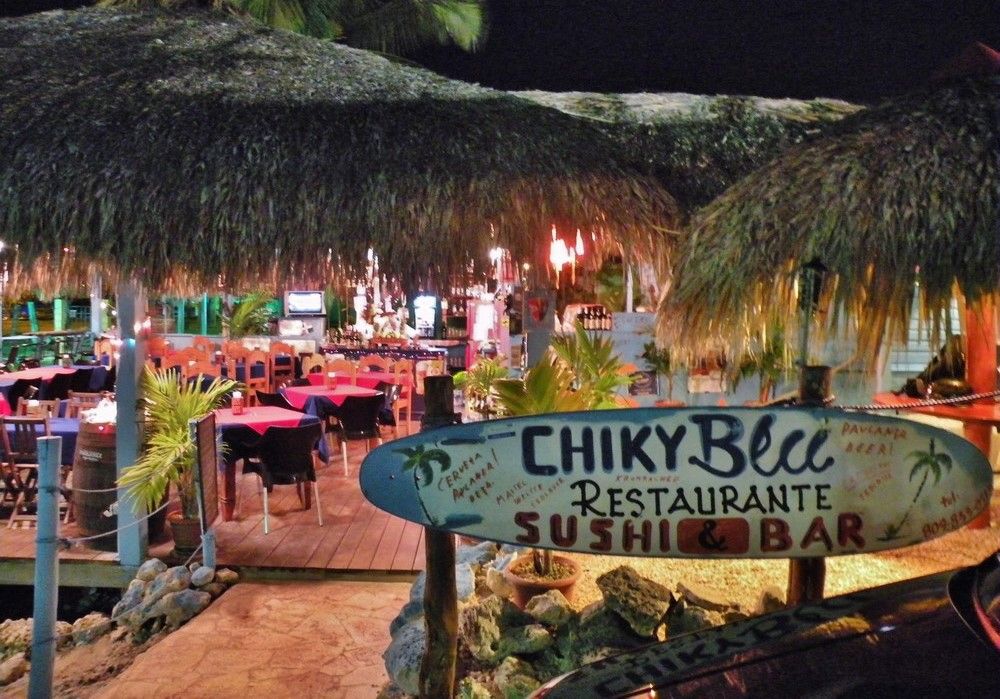 Whatever kind of food you choose, you won't have any problem to find the best fitting drink in their extensive drinks menu. Chiki Blue`s fabulous wines go perfectly with different meals, especially with the fresh seafood. As a beer lover you will be spoilt for choice, as the menu is full of international beers, from local Dominican to German to American and so many more. At Chiki Blue you will get all foods and drinks for more than reasonable prices.
Once you are sitting down at Chiki Blue time will fly by whilst enjoying the wonderful view to the full, watching the boats going in and out and savouring good food and drinks. You can also use their free WIFI, maybe you want to send some holiday greetings and photos back home to your beloved.
Direction: Calle La Bahia, Bayahibe, Dominican Republic, 23000
Mopa Cafe
Mopa Cafe is the kind of place your local friend who's in the know takes you to and it will make you feel like you've also always known it. It is very tiny and on a little side street. The small location doesn't matter as the menu is very large and includes breakfasts and lunches.
If you are looking for scenery, this isn't the place for you, if you want great great italian food in Bayahibe, go here!!! Run by a traditional family management of an Italian family who have made the Dominican Republic their adoptive home. Mopa Cafe offers phenomenal food and the owners cook and serve you themselves with kind attention.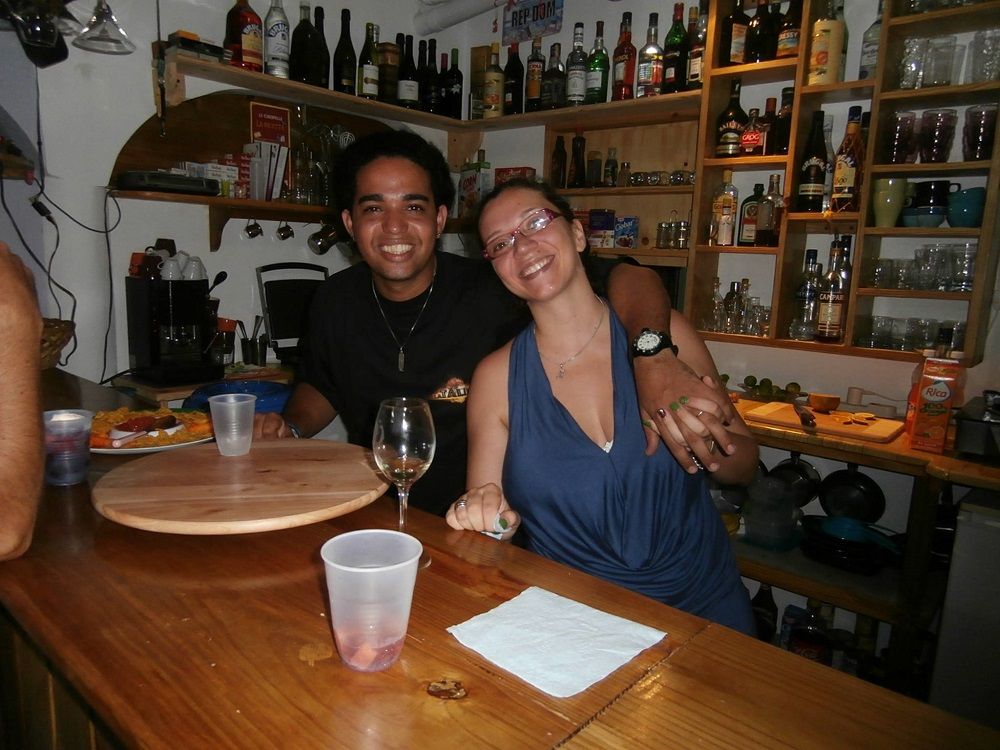 Start your day with a hearty breakfast at Mopa Cafe and you will get homemade crepes, yoghurt with fruits and all varieties of eggs. For lunch and dinner you shouldn't miss their housemade gnocchi which is seasoned in various ways and their fresh pasta, both are incredibly tasty. Or try the mouth-watering Octopus Salad or shrimp and zucchini.
Mopa Cafe also understands how to prepare fresh fruits, not only as a dessert, you should try their delicious fruit juice. As a dessert the homemade chocolate cake and Tiramisu are highly recommended and it is said that the guava pie is even better when fresh out the oven.
They also have daily specials not on the menu and the prices are very reasonable, especially the cocktail prices during happy hour. Whatever you choose you will taste that it is homemade cooking from the owners themselves and the best available ingredients are used.
This restaurant does not live on passing tourists, it convinces through quality. Once you found it and experienced the out-of-this-world delicious food you will come back as often as you can.
See what patrons say about Mopa Cafè on TripAdvisor.
Phone: +1 (829) 770-3563
Direction: Calle Bayahibe Nuevo, Bayahibe, La Romana, Dominican Republic, 23000